A closet can be a tricky thing, it can be filled with the most inspirational clothing in the world, however if you can't find anything, you end up frustrated and staring at it for such a long time that it makes you late! Hence, my daily dilemma.
Before I was married, I was one of those people that always had my closet impeccably organized. Tops had their special place, shoes had their own box, and dresses were displayed in all their glory. During the "moving in" process, I took over 85% of Mango's closet (most of his stuff is in the home office closet, and the other 15% is in the bedroom closet) and proceeded to hang everything wherever I could find a space, not really paying any attention to detail as I once did. So in summary, my closet is a mess and I'm sharing it with a boy...in all do fairness, his section is very neat :-) . The mess isn't very conducive to creating great outfits considering the I tend to pick from the same small section because I don't know (1) where most of my items are, (2) what still fits me or still looks good, and (3) what I exactly have. So this week I have decided to revamp my closet and in essence "create my own mall". Sounds like fun right?
In order to make this a little easier on myself, I decided to do a little bit of research on how to best tackle this project and after reading several articles, I compiled these basic rules:
1. Pick out your favorite pieces
If you are anything like me, you have things in your wardrobe that you absolutely adore. They have been with you for years, are timeless, and always make you feel beautiful. Take those out first, it's a great way to start building your wardrobe. There's a reason why these pieces make you feel great, what better way to start creating your dream closet then by using these pieces as your guide. Figure out why you love them, is it the fit? the color?or just the vibe they give?
In an effort to not overwhelm yourself, attack your closet in sections: tops, bottoms, shoes, dresses, and accessories. Personally, I like to "see" everything, so it helps if you lay everything out on the bed (or the floor). This will help you in the editing process! I know it's tough and I usually need to psyche myself out for this, but it's time to be ruthless! This is a list of questions you should ask yourself while editing, I found it on Suite101.com and thought they were helpful:
-Have I worn this within the last 12 months?
-Does it fit me now?
-Do I feel good when I wear it?
-Do I look good when I wear it?
-Am I comfortable in it?
-Does it hold any special sentimental connection for me?
Something I have come to terms with, is not to keep something in hopes that you will eventually loose weight and fit into it again. I still have some of those articles of clothing that were just so cute and one point, however don't fit anymore. While they remind you of a certain time in your life, it's necessary to let them go. They are taking up space in your closet and are not letting you move forward...so get rid of them! Fit is another important issue. I've got a couple dresses, tops, and pants here and there that I love and even though they didn't fit right I managed to convince myself in the dressing room at the time that they worked. Well, they don't, those need to go. Sometimes, pieces just don't fit the same. I have a shirt that I loved all through college, I wore it constantly, all of a sudden it's too small in the bust (Yey! That means the girls grew!), it's gotta go.
As you eliminate pieces in your closet, think of it this way, you are making way for a better wardrobe that will work for you!
3. Make it a team project
In my opinion, this part can be optional. There are some people out there that need an outside opinion during this process and it can help to invite a friend over for a non-biased opinion on what should stay and what should go. However, there are other people (like me) and see this as "quiet time" to completely enter their own little world. While both can be a lot of fun, I suggest you start off with a friend...and cocktails.
Now that you have edited your closet, it's time to put it together! Personally, I like to set up my closet like a store so that it feels like I'm shopping. Some people like to organize items by color, length, category, season, whatever works for you. In a tight space, I like length and color. Dresses go in the order of shortest to longest, tops by sleeve length, and pants by color (even the jeans). Oh! and just because it's a closet, doesn't mean you can't accessorize it. First thing, the hangers. If you use the same hanger throughout, it gives your closet a more uniform look and helps your clothes pop more. I really like these:
Both are from Bed Bath and Beyond and affordable for your closet makeover. The wooden hangers are great for giving your clothes support and creating that sleek, uniform look. The black velvet lined hangers are perfect for spaghetti strap tops or something with a delicate fabric. Another great go-to place for closet fun, The Container Store. If you haven't checked this place out yet, it's a must. They have everything you can imagine to organize your home. For your closet, you can find everything from clear shoe boxes to shelf organizers.
This is the fun part! Put some outfits together now that you can find everything and you know what you have. If you have a friend over, this can be a lot of fun, sort of like a mini fashion show.
Now that you know what you have, you can figure out what's missing. This can help you update your wardrobe. If you are anything like me, you have a lot of basics, so some funky pieces and accessories can be a big help. Or maybe, you need basics! Over the weekend I read an article about a woman that had experts come in and revamp her closet. They convinced her to invest in a great pair of sunglasses, a pair of jeans, and a simple black T. Pretty basic huh? It seems to be Angelina's staple of style, and that's good enough for me!
*Side note: Is baby Shiloh beautiful or what?
7. Don't forget your underoos!
I've come to realize that something we often tend to forget about until we are running around late for an event and yelling, "why don't I have this?!" are the necessary under pinnings to an outfit, like bras, panties, etc. I've always heard that what you wear underneath is the most important part, and I couldn't agree more. I can recall several times where I was wearing a great outfit, and felt uncomfortable because I had on the wrong bra.
I'm not one for the bright colors when it comes to bras, I just don't want to put the brain power into wondering whether or not the color will show through, so I stick to the three basics: white, black, and nude. A girl needs at least one of the following: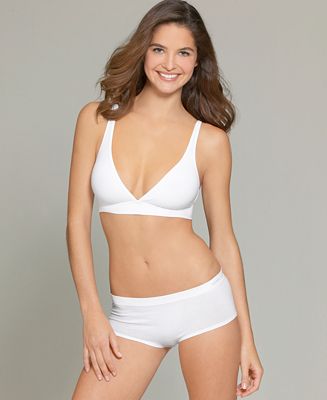 2.
Strapless - I admit this is not the favorite, mainly because we automatically think of having to pull it up. However, if you get one that fits properly, you won't have to do it as much (I'm not gonna lie).
3. Push Up - I like this one, because it helps you show off the goodies! However, I tend to leave it for special occasions and sometimes a dress just looks better with the girls a little higher.
4. Your everyday bra - This is different for each woman. Basically we try on a zillion bras until we find "the one" and are loyal to it. I have my everyday bra in all three colors and I love it. For me, it's the Infinity Edge Demi bra ($40) at Victoria's Secret, it's comfortable, fits great, and looks wonderful under my clothes:
5. Racer back bra - This was the one that until I got it, I had about 5 tops that I couldn't wear. It's an essential for those sleevless tops that cannot cover your bra straps. Personally, I love the one from the Pink line at Victoria's Secret, it's the Totally Smooth T-Shirt bra and has a back closure for your racer back tops:
6. Sports bra- this one is a must for exercising! It keeps you supported while you're burning calories.
7. Your fun bra - Like I said, I'm not into the bright colors and "attachments", but every girl needs a bra that they feel sexy in and it's pretty, almost too pretty to cover up.
One of my favorite pieces in my underwear arsenal are my Spanx! These are by far one of the greatest inventions for women ever! It's amazing what Spanx can do and I am a huge fan. For those dresses that tend to be unforgiving, these can totally smooth you out and practically make you look like you dropped a whole dress size. Bonus, they don't give you that "muffin top" effect like with other shapers and don't roll down, so they stay put and don't give away that you have a little help looking fabulous. My favorites are the Power Panties at just $30 a pop, I have them in nude and black!
Wish me happy vibes on tackling this project. I have a feeling this is going to take over my bedroom and Mango is going to be hiding out in the family room playing Wii. Just in case I loose my editing nerve, I have my sister on speed dial.