Greetings from Mango and Mangonett! Hope you are all doing well!
I've managed to sneak a way for a little bit of time to catch up on my favorite blogs and even make a little blog post of my own. This week Mango's family came to stay with us and they also brought Brandy along, my favorite golden retriever (I call her my "little red head"):
For the first couple days, we went to visit the always fun, South Beach. Even though we live only 45 minutes away, believe it or not, we actually don't go there very often. Mainly because our beach is only 15 minutes away and frankly, the traffic is something to be reckoned with. However, every time we go there we have so much fun people watching and visiting all of the cool hotels, especially my favorite, the
Delano
...sigh, so beautiful. Unfortunately this time around all I could do was stare at it from the outside because there were so many people it was hard just to get into the lobby. While walking down the strip, I made sure to pop into the Whitelaw hotel, this hotel has become a favorite place for South Florida brides to take their boudoir photos because of the funky decor (great for pictures!). I had never been inside before and thought it was so much fun, cool damask wallpaper on the ceilings, funky chandeliers, and ornate sofas:
Of course, you cannot mention South Beach without mentioning the shopping! Oh my, the shopping! We made sure to take a stroll down Lincoln Rd., if you haven't been there before, it's a great off shoot to the main street where you can find fabulous restaurants and even better stores. Whenever I'm there I always make sure to stop at the
Anthropologie
, it's the closest store in the area, I love looking at the items for the home, Mango and I bought an adorable
checkered knob
for the kitchen.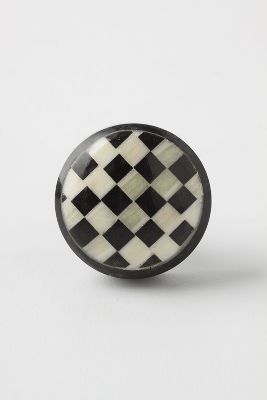 Since it was the holidays, the streets were covered with beautiful lights:
For the past few days we've all been spending time with family and eating as much as we possibly can...I don't think I'm going ever going to feel hungry again for a long time. Why does that happen when you're around family? Right now, I'm busy packing and getting ready for our cruise! We leave tomorrow! I can't wait, however, I don't think I'll be able to attack those buffets with as much ferocity as everyone has told me people usually do. Have a great weekend everyone! See you when we get back!